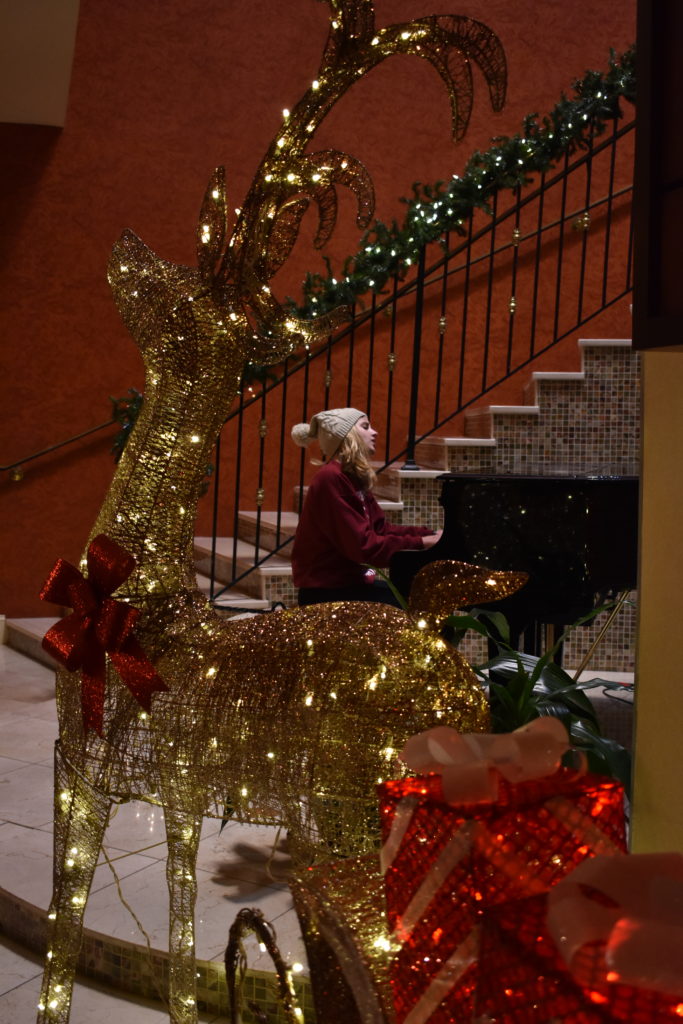 ​​​​Evie Clair arrived in Anderson, South Carolina to a snow storm that is unusual for the South this time of year. Anderson rarely gets snow even in January let alone as early as December. They assumed it must have been Evie's granted wish since she had rarely seen snow as a Phoenix valley native. All of her Christmas wishes seemed to come true with the help of not only the weather, but the southern hospitality of the people in Anderson.
Evie was greeted by the directors of Anderson Lights of Hope – a 45 acre Christmas lights display in the heart of the city.  They treated her like royalty and had a number of surprises awaiting her over her two day visit.
She first arrived at the Hilton Garden hotel where they directed her to a beautiful grand piano in an acoustic chamber. She gave a stunning private performance with several people who had been awaiting her arrival listening in.
The next day she was escorted to the Cancer Association of Anderson where she learned of their incredible impact for good on the local community who had been affected by cancer. They help provide transportation for treatments, emotional support, hats, blankets, scarfs, etc. medical insurance assistance, physical therapy and so much more. Evie and her mother were given a tour of the facility by Director Angie Stringer who is a cancer survivor herself.
They approached a wall with names where they recognize not only those who have passed on but caretakers who have fought with them and raised awareness. They presented Evie with her name and her father's name to add to the wall. She and her mother placed them near the names of the father's of their hosts. Both Ben and Bonnie Phillips also recently lost their fathers to cancer and were the ones to initiate Evie's visit to South Carolina.
Evie was then presented with the South Carolina flag as a gift for her "performance at the Anderson Christmas Lights Event and for touching so many hearts with her dedication to family, her strength of survival, her talent, her inner and outer beauty and vivacious and caring personality." This was presented and signed by the entire legislative delegation of Anderson County.
She was then presented with an authentic US flag that was flown over the capital in Washington DC at the request of Jeff Duncan in honor of Evie Clair and she was given a proclamation from Mayor Terence Roberts declaring December 9th Evie Clair Day! It officially recognized her accomplishments and praised her for raising awareness for the Cancer Association of Anderson. An official resolution was passed and signed by representatives of all the districts in the county to honor her.
They thanked her again for sharing her music and her story while she and her mother were overwhelmed with gratitude for such an honor and such love from the people of South Carolina.
To further show their appreciation for her, Ben Phillips took Evie to Drasien Edwards Music to let her pick a guitar of her choice which she hasn't been able to put down.
Before the concert that night in the Electric City, Evie was treated to complimentary breakfast at Eggs Up Grill, a photoshoot at the Old Court House and city Christmas Tree with the famous Mr. Whitner Statue. The best part of her day was when her grandfather met them for lunch at Mellow Mushroom Pizza. Dean Abplanalp is Evie's dad's father who lives in Orlando, FL and was able to make it to SC for the event – another Christmas wish. The event went off without a hitch and Evie touched the hearts of many with her beautiful Christmas music. Despite the freezing temps, it was the largest turnout the Electric City had ever seen. Evie Clair found incredible, giving hearts in South Carolina and she says she will never forget the experience for the rest of her life.
(photo credits – Mike Heisler)